National Grid operatives from the West Area of London are the first in the UK to be trained on our award winning Water Extraction System for live gas mains.
This week, Synthotech delivered the UK's first "closed-loop" Water Extraction System for live gas mains to National Grid Gas, Slough.
This new product, developed with Northern Gas Networks, is able to accurately locate sources of water ingress in live gas mains, simultaneously removing the water and recycling the gas back into the main to avoid emissions and reduce excavations.
Following a successful demonstration of the equipment on a 90mm diameter PE pipe in the Bracknell area earlier this year, National Grid placed the first order for their own unit.
Synthotech Technical Support Engineer Mick Hargreaves has been training 2 teams from Slough, 1 team from Fulham and 1 team from Barnet this week. These teams were recently trained on the SynthoCam 3 CCTV inspection system, hence only a relatively short update session was required for the Water Extraction System, which is fully compatible with the SynthoCam 3 range.
With the cold, wet weather increasing by the day, National Grid London West are now prepared with the latest awarding winning technology to tackle water ingress in metallic & PE Tier 1 mains.
Check out the WExTech range here, or contact us for more information.
Candidates attend a classroom session explaining the operational & safety procedures of WExTech
The next step in training is to learn the controls of the unit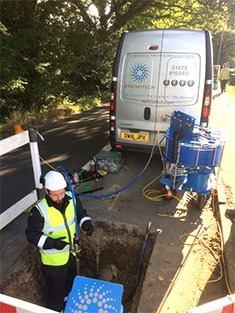 TSE Mick then carries out a practical demonstration on a Live Gas 6" diameter metallic main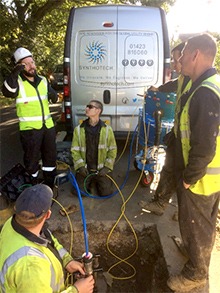 Trainees then get hands on training using the equipment, under the supervision of Mick.