This live access CCTV system can be used in 50mm to 255mm PVC gas pipes up to 2barg and can survey up to 70m in a single direction.
The SynthoCAM PVC™ range was originally designed in partnership with IPCO our Dutch distributor for use on the PVC network in the Netherlands and Europe. It quickly locates in-pipe obstructions, poor pressure conditions, joints and defects that cause gas leakage.
The SynthoCAM PVC™ range includes the S240 (24mm) and/or the S301(30mm) camera that use second-generation super bright LEDs to provide a clear crisp picture. The range also offers a choice of a System 1 cobra – 4.5mm Ultralife insertion coil and/or a System 2 Cobra – 6mm Ultralife insertion coil to ensure that maximum push distance is achieved depending on pipe size and flexibility needed.
SynthoCAM PVC™ is a modular system that caters for different types of users and future proofs for further company expansions. Optional extras include GPS and meterage.
The system uses Synthotech's design protected Stargland and FoamSeal systems and can access the PVC pipe through:
Ball valves

End on into pipe

Wavin PVC-A fittings
A number of the SynthoCAM PVC™ products can be used on Polyethylene (PE) pipe and metallic pipe as well.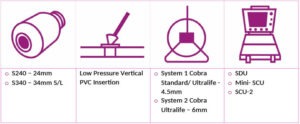 Download the SynthoCam PVC brochure